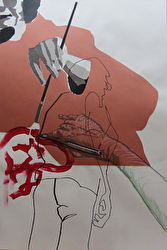 In a recent drawing class, the instructor gave each student a photocopy of a bomber airplane. We were told to hold the image with arm extended so that we could do a blind contour drawing of the airplane without looking at the paper we were drawing on. Next, the model got into position on the model stand and we were told to do a blind contour of the model, that is, without looking at what we were drawing. And we were drawing on the same sheet of paper on which we had already drawn some semblance of the airplane. (Are you with me or have I lost you?)
When I looked at my drawing it was no surprise that my airplane was out of proportion and the perspective was off. Lines that should have connected didn't. Similarly, my figure was distorted, to say the least. Then, a second model was posed behind the first model and we were told we could work blind or represent the second figure in any way we wanted. We could also switch media, resolve the earlier blind contours, or do whatever our own aesthetic sense seemed to require to complete the drawing.
There were some amazing results in the classroom; results that we would never have imagined had we been assigned to logically compose a drawing with two figures and an airplane. In some drawings the juxtaposition of the airplane and the figures suggested a narrative or a mood. In other drawings, the relationship between the figures was the central narrative.
The airplane was a "disturbance" that caused each of us to respond differently. You could also say that the method used - blind contour - was a disturbance, for most of us would not choose to begin a drawing that way.
Of course, there are other ways to create disturbances. I often do abstract underpaintings with random shapes and colors before rendering a subject on top of it. This excitement of the surface brings an element of the unconscious to the process, just as some of the Surrealist painters used automatism. There's an individual charm about it that gives the viewer a sense of authenticity.
So, I would challenge you to challenge yourself to create a disturbance in your creative process, whether drawing or painting, and see what happens.
The image in this post is a prototype for my midterm assignment. It combines torn paper, blind contour, and academic drawing, layering different levels of consciousness in the creative process.
Comment on or Share this Article →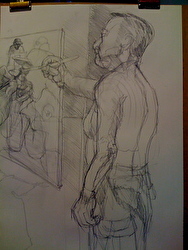 Drawing the model drawing
Taking drawing classes from John Erickson at University of Utah is first and foremost a mind-bending exercise. He challenges you to see different facets of your subject and to conceive of different ways to express what you see. The latest challenge is to combine in one drawing elements of academic accuracy, blind contour, and "some surprise." He suggested envisioning drawings on plexiglas layered on other drawings on plexiglas. Seeing all layers at once may seem like a jumble, so the challenge is to figure out which layers advance and which recede. But, of course, we're not working with layers of plexi, but only one sheet of paper with some some drawing tools (pencil, charcoal, or ink/marker, primarily).
It's a fun coincidence that I've been playing with layers in my painting for the last few years. I've layered transparent watercolor and acrylics, worked with layered images in Photoshop to help compose paintings, and I've attempted to create layers in oil, using turpentine washes and thicker layers with palette knife.
For me, layers are a metaphor for life. We layer experiences and stories in each successive generation until we have a fossilized cliff of family history. With each thing we do, we add a layer to the cliff. If we choose to go on an archeological dig into the family cliff, we unearth all sorts of mysteries. It may not make sense, but we are who/what/where we are (at the top of the cliff) because of all those whose layers came before.
So, I'm still trying to wrap my head around the class assignment, to figure out how to make it work within my metaphorical meaning, not simply as an academic exercise. I'll post images next week. Meanwhile, here's one of my class drawings. The model holds a paint brush to a plexi panel, while the artist's hand approaches the panel from the other direction.
Comment on or Share this Article →