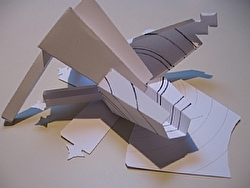 My completed 3-D composition
Group mediocrity (see previous post), as it turns out, did lead to a distorted pattern for my last 3-D Design project. However, I'm pleased to report that I overcame it with a final composition that incorporated a pre-distortion object and two distorted patterns used in such a way that the distortion didn't matter.
What did I learn?
1. Voice your concerns and convictions in the group as aggressively as necessary to avoid going down the easy, mediocre, group path.
2. Don't get upset by unintended or unexpected problems - make the best of them for a creative solution.
3. Practice articulating the choices you make to solve the problem; "sounding good" promotes "looking good."
My project received positive reviews from the class and instructor, so now I'm pumped to move on to the next (even more difficult) 3-D design. Successful completion of creative projects is important to maintaining momentum and continued creativity. This is true in any endeavor, even those that don't strike you as particularly creative.
Take my bathroom renovation for example. I paid someone to take out the old tub and put in a wonderful new tiled shower. I vowed to do the painting myself, with help from my son. Alas, I let myself lose momentum and now it's hard to get it back. The solution is to look at the project in small chunks (spackle holes, sand, clean walls, etc.) and take them one at a time. The successful completion of the first will fuel the momentum on the next one, and so on, until the whole thing is finished.
Happy completion!
Comment on or Share this Article →