« A Big Week in my Art World! | Main | Layers in Two Dimensions »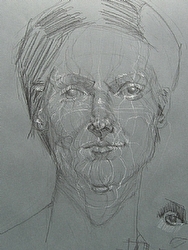 Class drawing
When I try yoga stretches I haven't done for a while, my body screams with discomfort. I was reminded of that feeling this week as I started an advanced life drawing class at the University of Utah. It wasn't discomfort in the body I felt as I stretched to make my pencil capture the abstract shapes I was trying to see in the model. It was the psychic pain of that internal critic jabbing at my tender ego. Ouch!
Just like yoga, the more we exercise our various art skills, the better we feel. When we let those skills get out of shape, the discomfort is discouraging. That's why I'm an advocate for a frequent return to basic skill training. Drawing, color theory, and composition, for example, are among the most important elements in our toolkit. Yet, as we get comfortable in our own way of making art, we forget to practice the basics.
If you paint from imagination, you may ask why you need to practice life drawing. Or if your work is primarily abstract, you might wonder the same thing. And if you are a landscape painter and work from nature, you may wonder why you need to study compositional structures. Here are some of the benefits I see:
1. It will make you a better artist, no matter your subject or style. Creativity is all about connecting the seemingly unconnected. Engaging in practices that are outside your comfort zone or usual routine may jar your imagination in unexpected ways, leading you, perhaps, out of a creative rut, and into a new, fertile way of making art.
2. It opens your eyes to a new way of seeing. Let's face it - the first challenge we face in learning to be artists is learning to see. Once we train our eyes to see shapes, lines, subtlety of color, pattern and texture, the rest becomes easier. But even for the experienced artist, constant practice will make us better.
3. A good instructor will broaden your knowledge and skill. Perhaps you earned your art degree 20 years ago. You studied with the best and you think you've retained the fundamentals well. That may be true, but I would suggest that an opportunity to study with someone who has a different way of teaching is worth a trip back to the classroom (or workshop). In yoga terms, it may be the same downward facing dog, but a different instructor may challenge you to change the pose in a subtle way that will make it seem an entirely new stretch for parts of your body.
How do you go back to basics? Depending on where you live, the possibilities may be limited or nearly infinite. This may determine whether your basic training exercises are weekly or annually. Here are some ideas to explore in your area:
1. Take a class at a community college or university. Most will offer basic drawing or figure study classes. If you took that long ago in college, consider taking an advanced class.
2. Join a Meet-up group in your area that combines resources to hire a model for figure drawing sessions.
3. Look for local artists who also teach, or who would like to join you in self-guided basic training.
4. Lacking skilled instructors or colleagues, order videos or books and work through the exercises provided. There are many resources for both basic and more advanced skills.
The important thing is to continuously stretch your creative muscles to develop and maintain your flexibility, energy, and strength as an artist.
Comments