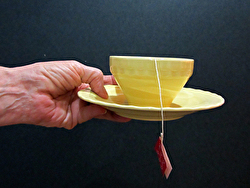 I always start a new series with a spirit of hope and optimism that the process will be stimulating and joyful and the results will be interesting, beautiful and highly collectible. Now, that's not always the way it works, but why start if you don't have that hope?
So it is with two new series I have in my head. The first is "Early Spring" - a evolution of my Bleak Midwinter series. My hubby and I drove to eastern Washington for a family visit at Easter and I took lots of pictures out the car window. The trees were starting to get that early spring fuzz of color, and the grass was beginning to turn that bright spring green. It will be great to change my color palette from midwinter to spring. And for this series I will continue my evolution toward more abstraction. Some people look at abstract paintings and think they are a bunch of weird marks and spashes that even a child could do. But it's not that easy. Especially if you are naturally drawn toward painting more or less what you see. It helps to squint so that you see mostly shapes and colors and less detail. Not good for the wrinkles around your eyes, but great for your painting! You can see an early example here.
The second series is one I'm calling "To Have and To Hold" - still lifes that incorporate a hand. Exactly what form these will take remains a mystery until I actually put paint and other media on canvas. But I'm thinking they will be impressionistic and/or abstracted. In a way, they will be self-portraits because the objects will be those that have particular meaning in my life. They are things I've collected or things I use almost daily. They are the kinds of stuff I may have to get rid of at some point when I start downsizing, but it will be sad because I find them beautiful. Maybe the paintings will be good reminders and make it easier to part with some of this stuff.
I did my first photo session a few days ago. This photo of a favorite tea cup is one example. Though this is on a dark background, I also photographed it against one or two other lighter backgrounds. I'll post some works-in-progress as I get going with this. Meanwhile, I'm still gazing around my house at all my stuff (a.k.a. treasures) and deciding which are good candidates for models in this series.
Comment on or Share this Article →